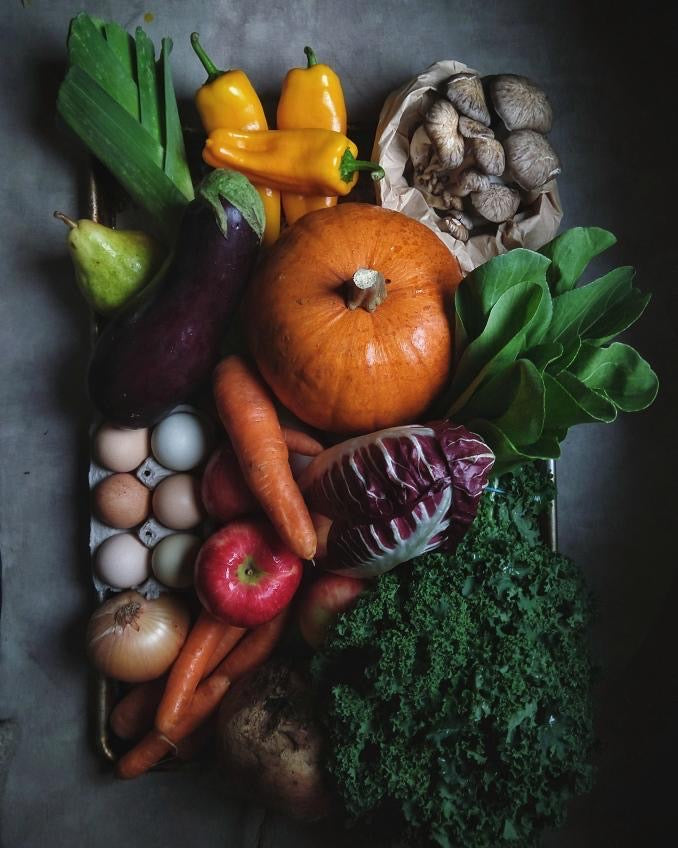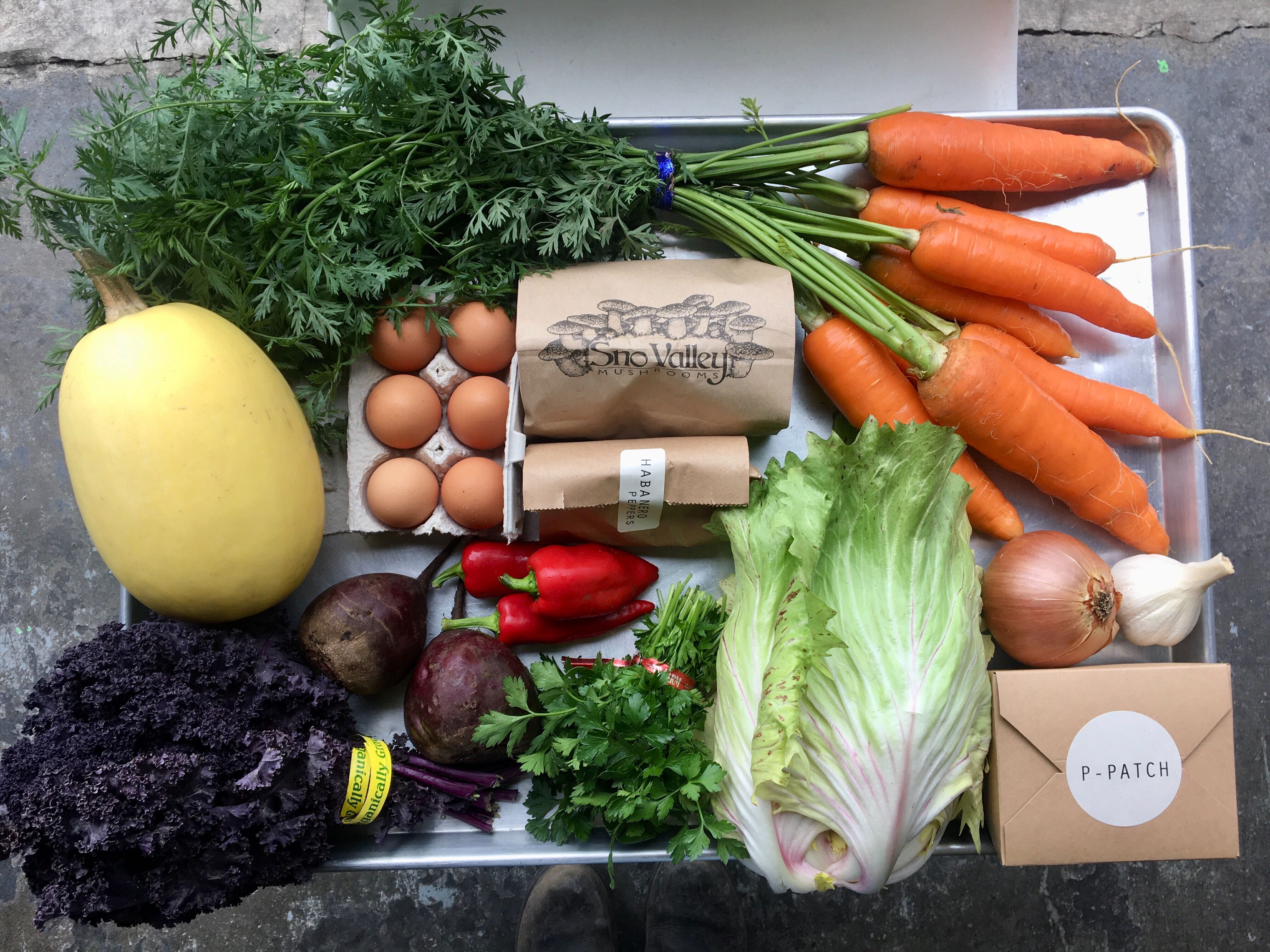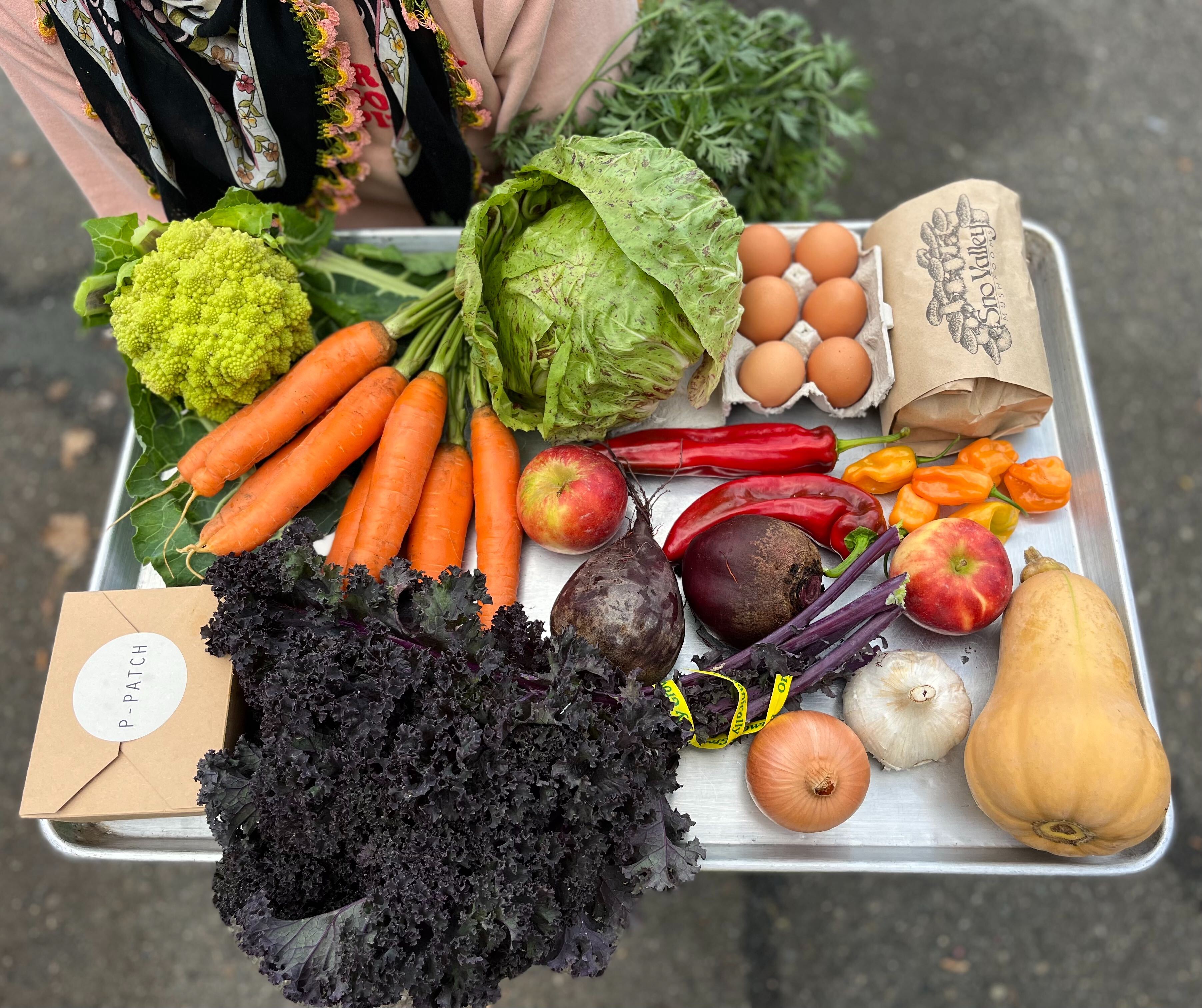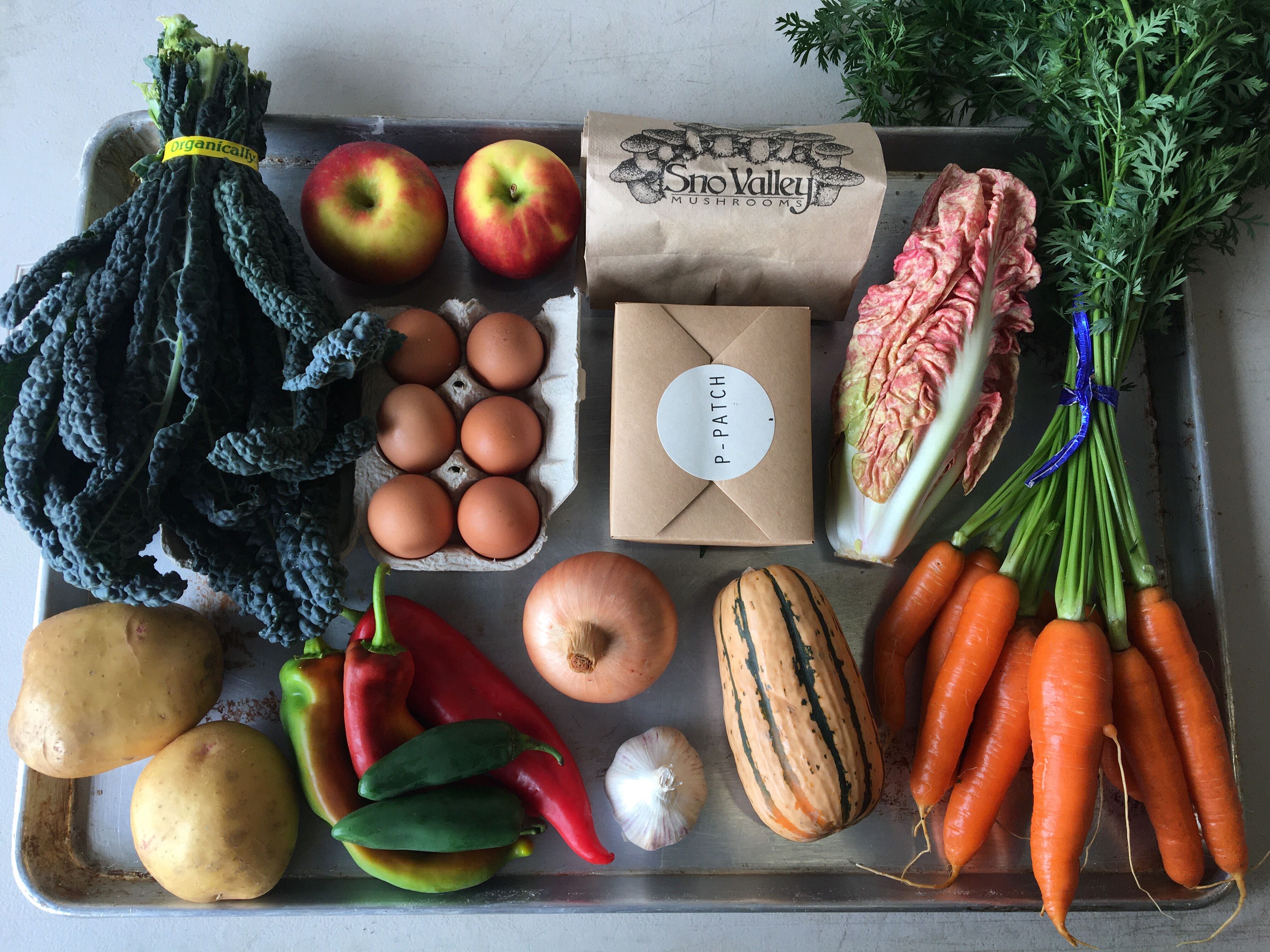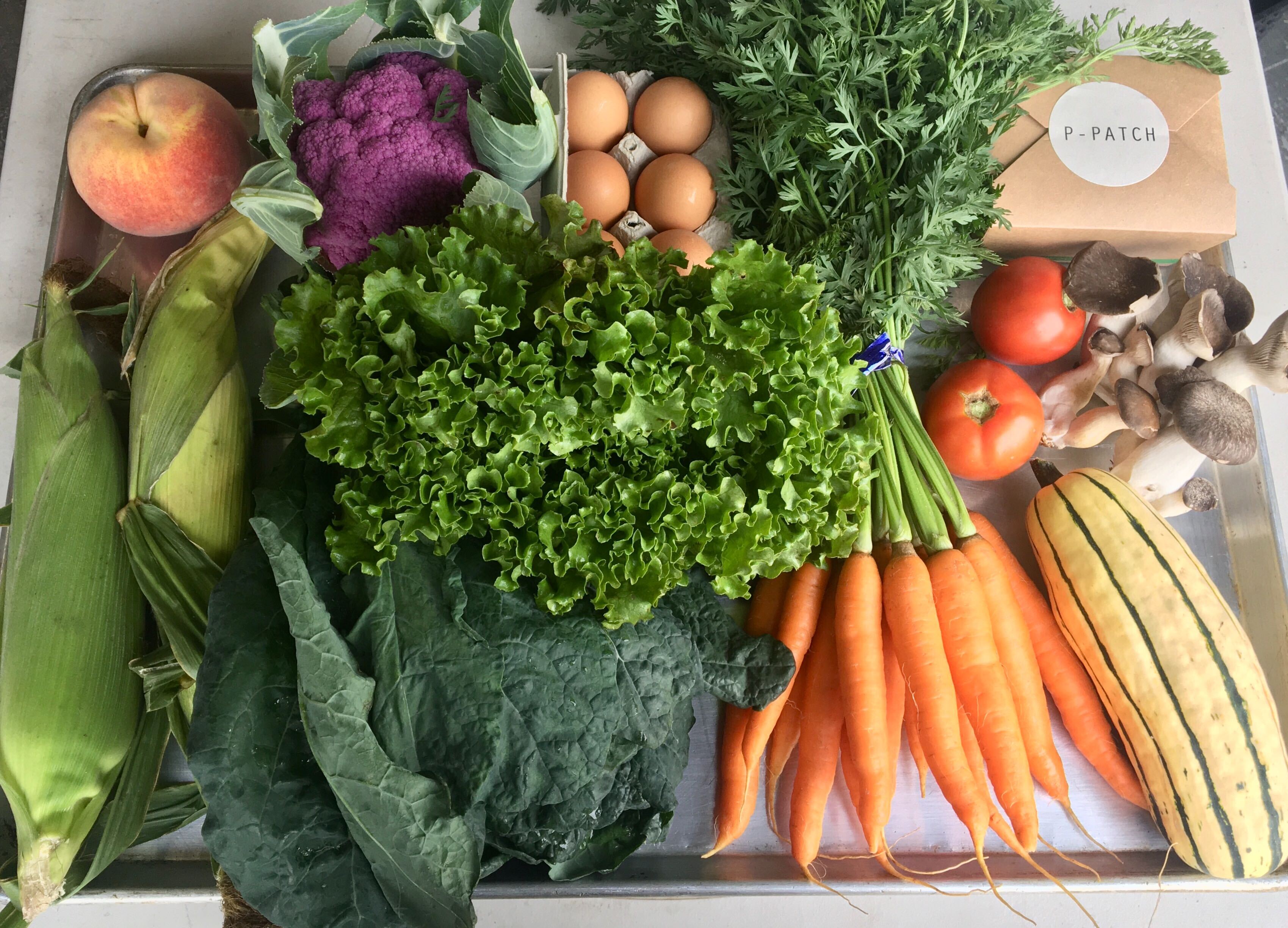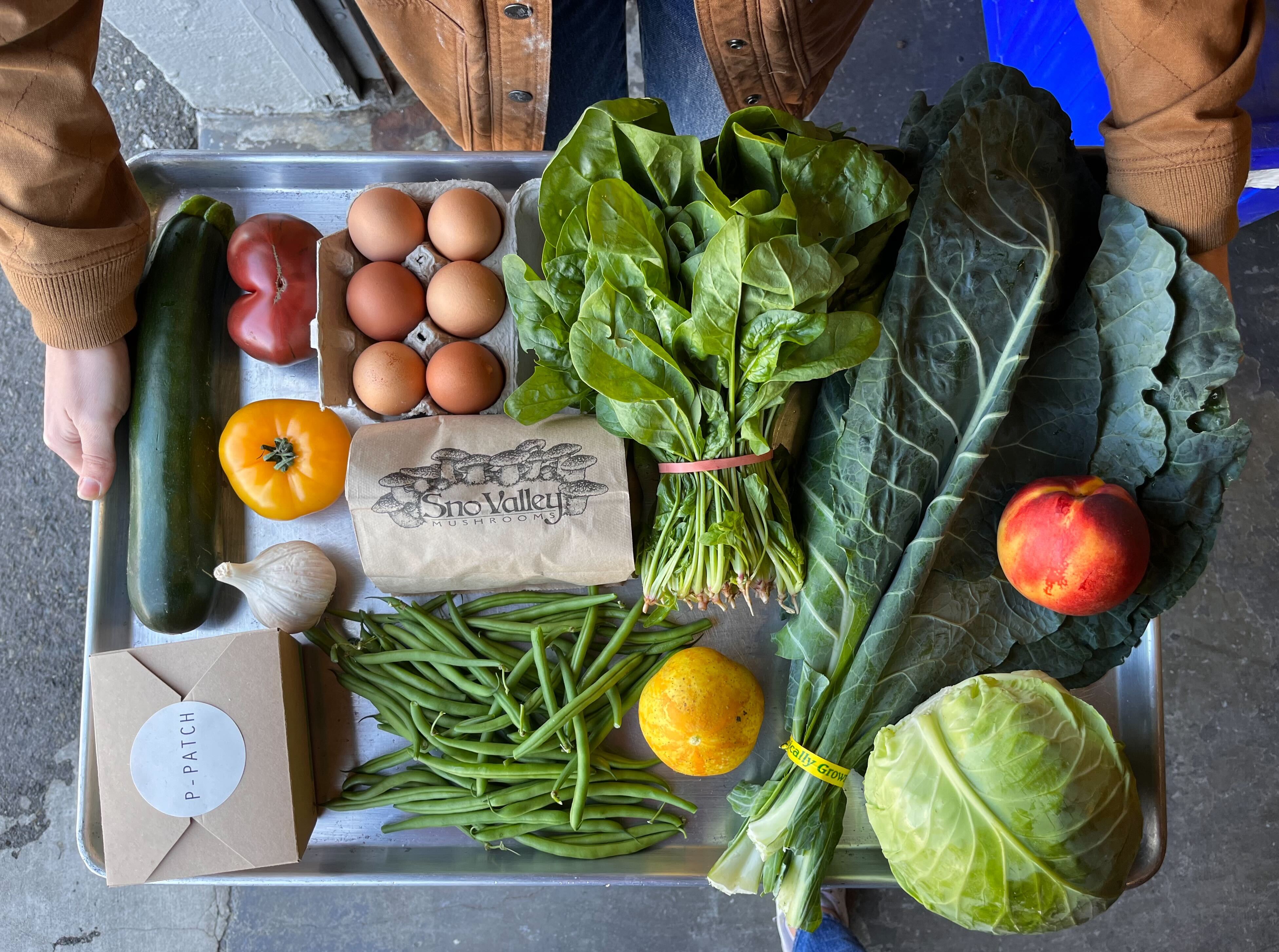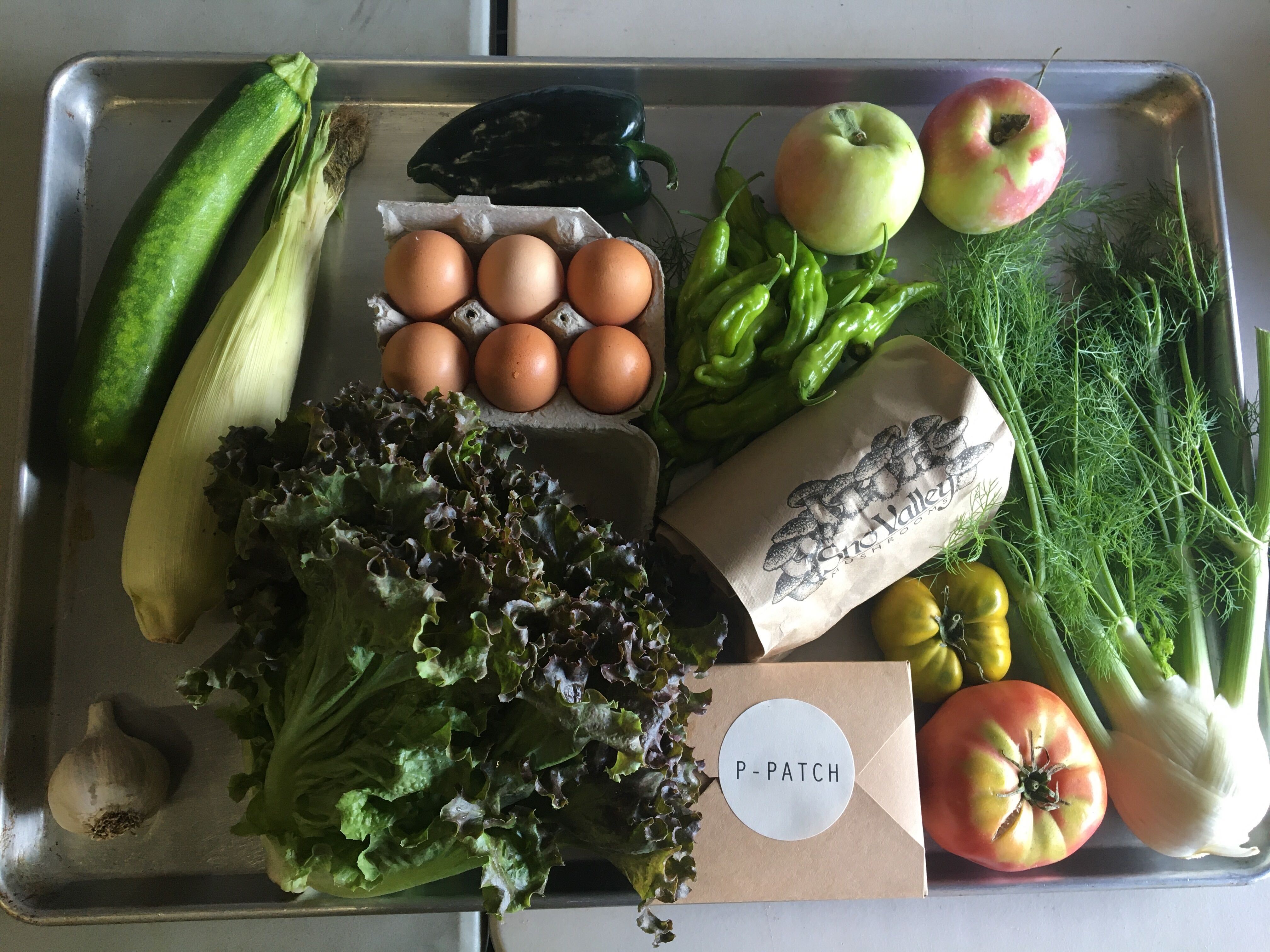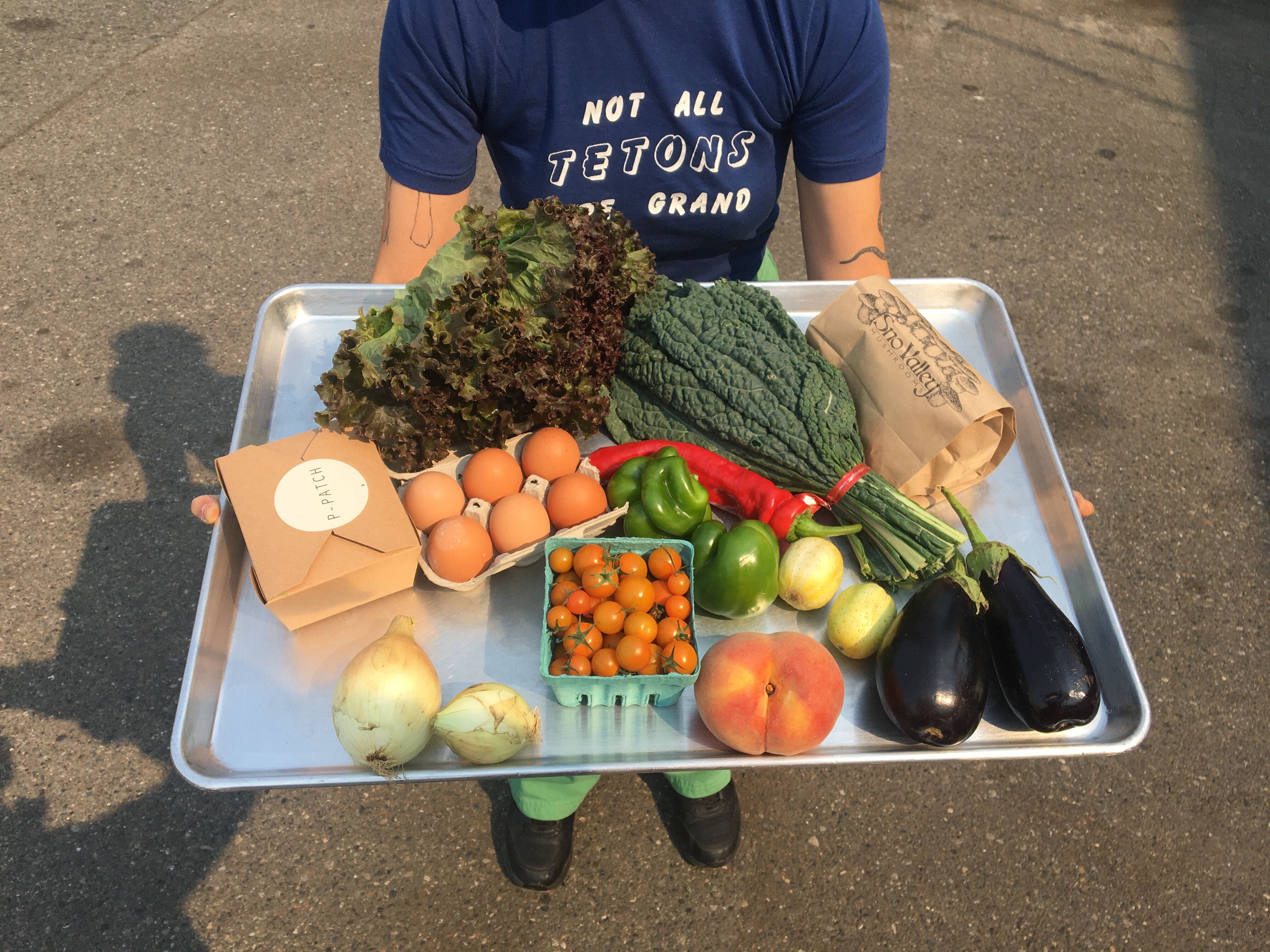 Our weekly selection of the best farmers market haul for a household of 1-2 people. Truly seasonal, truly regional produce, directly from our favorite small family farms.
We regularly work with John and Roxanne at Spring Rain Farm (Chimacum, WA); Colin & Genine at Kirsop Farm (Tumwater, WA); Melissa and Josh of Newaukum Valley (Rochester, WA); Amy and Agustin of Four Elements, in Puyallup; Brian Collins of Collins Family Orchards, Amy and Jacob of Boldly Grown (Everson, WA), and many more, depending on their growing season. 
We almost always include mushrooms from Rowan and Will at Sno Valley Mushrooms (Duvall, WA), pastured organic eggs from Sky Valley Family Farm, and fresh P-Patch microgreens from our own Salmonberry herb garden.  
P Patch: our "veg only" subscription, which includes an additional large-sized box of P-Patch, our all-purpose salad & snack mix from Salmonberry Herbs made up of buttery sunflower shoots, sweet pea vines and spicy radish greens.

Sourdough Country, Focaccia or Hippy Whole Wheat: your choice of our naturally-leavened sourdough breads, all made from small farm fresh-milled Skagit Valley and Walla Walla grain.

Wildflower Honey Granola (DF + GF): deeply caramelized with unrefined wildflower honey and maple syrup, and lightly savory from direct trade organic olive oil.

1/2 dozen assorted bakes: Rotating selection of the best of Salmonberry Goods pastries. Biscuits, cookies, and whatever's seasonally rotating.

Buckwheat Banana Bread (GF): A farmers market and cafe favorite, our buckwheat banana bread is made with organic Oregon buckwheat from Camas Mills and roasty Northwest pepitas and walnuts. Moist, longlasting and sweetened mostly with banana plus a small amount of brown sugar.

Single Origin Coffee (340g): rotating fresh seasonal single origin coffee from our favorite Seattle area roasters. A Farm Box favorite.

1 liter Kombucha: our farm-to-table kombucha changes every few weeks with different fresh-juiced seasonal fruits and vegetables, always post-addition for maximum brightness.

1/2 gal Willpower Chai: in-house spicy chai concentrate by Alex's brother Will, perfected over the course of years for our sister cafe in Pioneer Square. All organic spices and sweetened with non-GMO brown sugar and Washington wildflower honey.
Imperfect Produce is a venture-backed Silicon Valley-based startup that takes away business from independent farms, disrupting the CSA model with well-marketed sales of cheap, poor quality large-scale commercially grown produce. Read the labels at your local grocery store and you'll see even PCC sources produce dominantly from large farms out of state.

Vote with your dollar and have it feed you with beautiful nutrient- and flavor-dense crops that didn't travel across the country, but were grown by your neighbor with care for the soil and love for the earth.