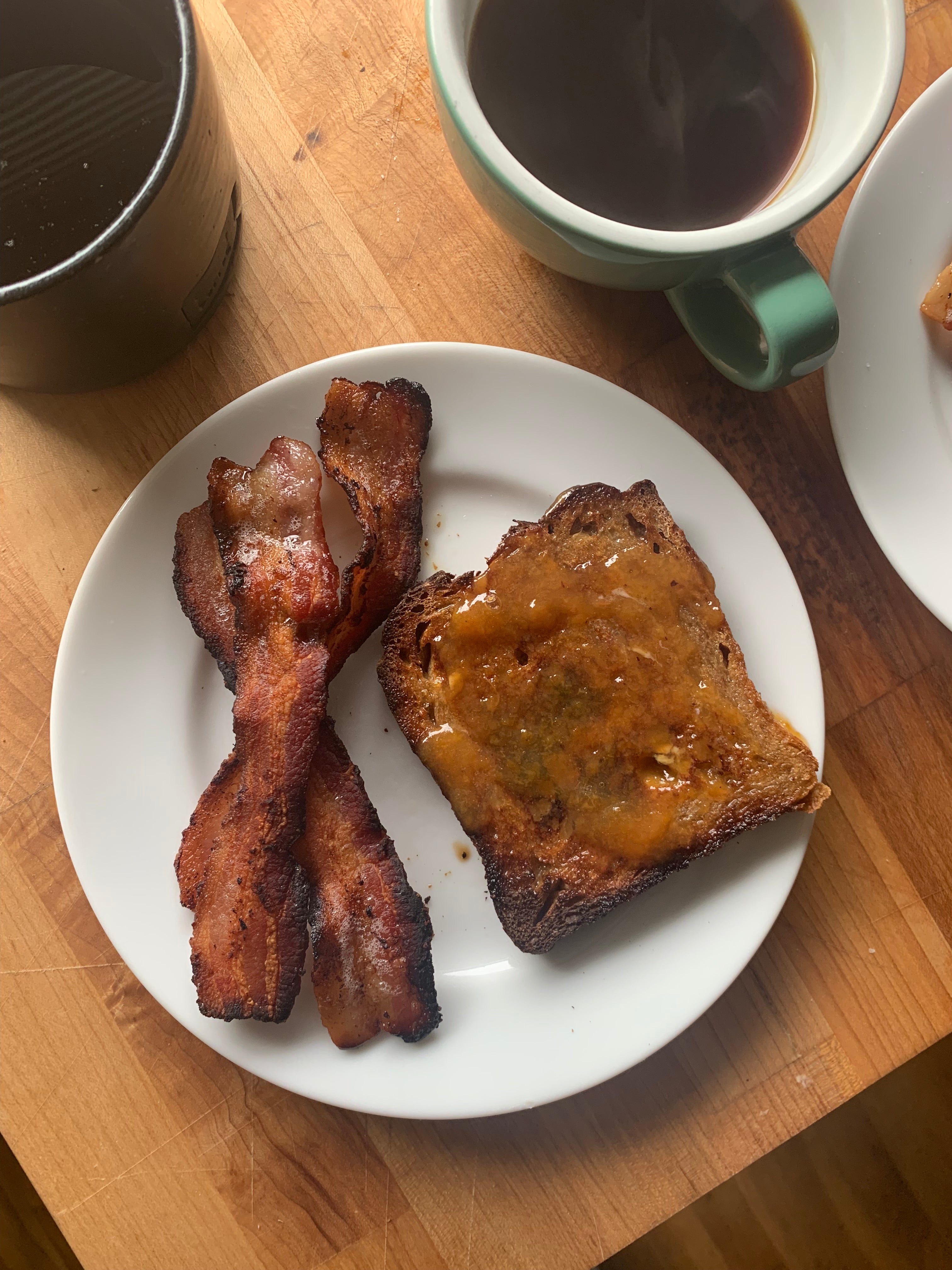 Ranch includes 2 packs bacon (approx. 1lb. each) and 3 packs ground beef (approx. 1lb. each). 
Skagit River Ranch is run by Eiko, George and their daughter Nicole, drawing the largest pre-market lines at Seattle street markets for decades. Their biodynamic farm is located on a gorgeous plot directly on the Skagit River in Sedro-Wooley, WA. All of Eiko's animals are happily pastured and fed grasses and herbs grown on the land. Non-ruminants' diets are supported by the finest organic non-GMO whole grains that are milled fresh onsite.
The quality is almost inconceivable. I've been ruined on their uncured bacon, thick and syrupy-sweet. Side-by-side tasting of their ground beef with three other competing small farms yielded an obvious winner in Skagit's wagyu cattle quality, a grass-fed sweetness and tender lack of gristle that clearly reflects the good practices of folks raising animals kindly on some of the finest riverside pastureland we've ever visited. 
*Meat products are transported frozen in reusable insulated bags with reusable freezer packs. Please return for pickup so we can sanitize for reuse.
One of the most difficult places to live our values is how we consume meat. The actual cost of sustainably harvested & humanely raised animals is a significant cut above the subsidized prices we've been raised to believe feedlot cattle and farmed fish to be. 

We source only from family-owned meat producers: ranching, raising, and harvesting sustainably with a focus on the earth and animal well-being. All our partners are family-owned organic farms or sustainable fisheries, and serious advocates & practitioners of sustainable farming practices. There are no chemicals, pesticides or herbicides used on their lands, and no hormones, antibiotics, or animal byproducts ever fed to these animals. Fish are sought out and caught sustainably, hand-harvested or line-caught one by one. Skagit River Ranch and Kirsop perform all their own butchery onsite, so animals endure no undue stresses of relocation at end of life.